Travel abroad really means to visit or move to a foreign country. It could be for a definite purpose like Study, Tourism, business, or a vacation. The duration doesn't really matter.
Travel abroad could be from gaining a scholarship to study in your dream foreign country or to be a part of a study abroad program that will enable the student to travel out of his/her country, learn a new language like German, English or any other language.
Sure I know that just hearing that you are traveling abroad will make you happy because you are going to be exposed, stay away from your parents for a period of time, grow your network and also gain a lot of exposures.
The benefits of traveling abroad are beyond what you can even think of, so read on while I explain more about the benefits of traveling abroad.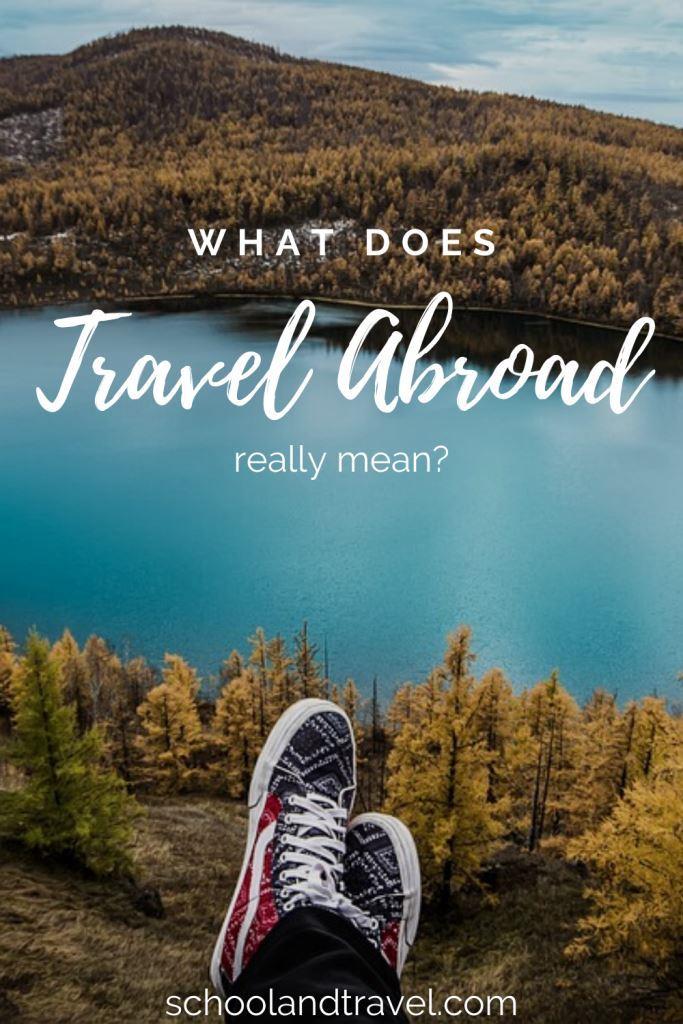 Difference between Abroad and Overseas?
Sure there is a difference. If someone is traveling from Nigeria to China, it's considered traveling overseas but if someone is traveling from the US to Canada, it is considered traveling abroad.
Read also: Visa on Arrival Nigeria: Full Details
Why traveling is Important?
Traveling is something that can't really be expressed in words, it's a feeling, it's joyful, and whenever you are getting into a new location or more often a new country you feel fresh.
So, traveling is really important because it gets you exposed and also makes you a better learner.
Here are the reasons traveling is important:
Traveling builds courage and confidence to be with other people:
As a traveler, you won't feel too timid to ask someone for help or directions because you are already exposed and you know that people are always willing to help when you ask properly.
It helps you learn a new language:
If you are a constant traveler to China, sure I know that you will learn to speak Chinese bit by bit. Yea I know it won't be as easy as it seems but as time goes on, you will keep improving.
Traveling helps you to step out of your favorite location and try out new places and cultures:
You have been in your home and city and feel like its the best in the world; traveling will help open your eyes to new locations that are much better than where you are even with more opportunities and networks.
More on What does Travel Abroad mean?
Benefits of Traveling in your Country:
Even if you don't travel abroad, you can still travel within your country by visiting different states and exploring the different cultures in your country.
Let's take Nigeria for an Instance, someone living in the southeast of Nigeria, can travel to the Northcentral, explore their cultures, and get to know more about the country.
Here are the special benefits of traveling within your country:
It's cheaper to travel within your country than it is to travel abroad because the shorter the distance, the less the money involved. Another thing is that you will not be worried about the exchange rate of money between your country and other countries and thus saves you money.
You get to explore new things about the country, learning her origin and history which leaves you speechless at first and turns you into a storyteller in the long run or when you return.
If you travel within your country by road or by train, you get to feel the environment as you travel instead of just seeing clouds while traveling on air to another foreign country.
Sure you know that you are in your country, it will be easier for you to get along with people because you all are a part of the same country and as much speak similar or the same language.
Traveling within your country to some extent saves you the pain of being exposed to the disease present in a foreign country.  
Cultural benefits of Traveling Abroad:
People travel for different reasons, some travel to some parts of the world for cultural purposes like seeing a new discovery, watching a dance that happens at a certain time of the year, and many more…Here are the cultural benefits of traveling:
You get to understand the culture from Someone that lives in that country:
As you travel to another country for cultural purposes, you will get to ask questions and get answers from people who are already indigenes of that place and have first-class answers to your questions.
Also in the case where you want to move to another location, you will be assisted by someone in that locality.
New Type of Food:
This is a really interesting fact about traveling. You get to taste their food, see the health benefits of some of the foods that are medicinal to the health which you can take back to your own country.
Read this: How to get an Excellent Bank Statement for Visa
Educational benefits of Traveling abroad:
Apart from the cultural benefits, there are still educational benefits. Though some were mentioned above but here are more on the Educational Benefits of Traveling abroad:
You will have stories to tell your people or your friends:
Sure you know you will take pictures and make videos of your trip which can be shared for educational purposes during presentations or quizzes in school and also give you a higher edge over others in school.
You will be Humble:
As you explore new places, you will get to be more humble and willing to learn because the people there are your instructors and are the ones that will direct you on what to do.
You will value your skills:
Sometimes the skills that you don't value could be valuable when you travel abroad. Travelling will make you improve more on what you and become more and more valuable to other people.
Practical Teaching:
When you travel abroad to a good college for studies, you get a more practical class or a more in depth class on what you were thought in your own country, thus making you more knowledgeable in theory and practical.
Jobs that can allow you to travel abroad with no experience:
It's looking somehow right? There are some jobs you can get abroad with no experience in which you will taught how to do the job. Here are the jobs:
Working in Superyachts:
Once you get the job as your worker on yacht, you get to travel along with the yacht to another part of the world. Of which you don't have to pay for the trip but to move along with the yacht and be doing your job.
Volunteering:
As you volunteer in different ventures, you could stand the chance of getting a Visa abroad where you will be part of a community that you volunteered for and also get paid for it.
Real estate agent:
Being a good real estate agent is a job that doesn't really require much experience but can be grown in the long run.
What are the disadvantages of traveling abroad:
Sure you know that for every advantages, there is a disadvantages, thus here are the disadvantages of travelling:
Most times the money spent on a journey abroad is so much that when a family comes back from a vacation, they tend to struggle to get back on track because of some unnecessary expenses made all through the journey.
Let's assume you are traveling to China from the US, you will have an issue with the language barrier between English and Chinese. This sometimes leads to a loss of money due to poor understanding.
There can be inconveniences coming from not being comfortable in your destination as in the type of food they eat, their lifestyle and the way they behave towards foreigners.
You will lose most of your friends:
Sometimes you will travel abroad, you will lose most of your friends due to poor communication. Another thing is due to the time differences in the different countries, such that the time you will be free might be the time your friend might be busy.
Read this: 10 Actionable Steps to make and keep Friends in your 20s.
This can't be explained enough…racism between whites and blacks can make you uncomfortable in your destination.
In Addition to Travel abroad:
What is Travel Insurance?
Travel insurance is an insurance product that covers any eventuality that happens during the course of a travel.
What is covered by Travel Insurance:
Here are the situations covered by Travel insurance:
Medical Emergencies: In a case of medical issues during the course of a travel
Trip Cancellation: In case your trip was canceled, your travel insurance can cover it.
Funeral expenses: In case someone dies.
Loss of Personal belonging or damage
Other medical issues.
Final tips on Travelling abroad:
Traveling abroad will really make you exposed to new experiences and new cultures. Try and travel out of your comfort zone and experience new lifestyles.
Thanks for reading this article.
Sharing is Caring.
Read next: 10 Mind Blowing ways a College Student make huge Money Online