Advertisement
Boarding Schools In Saskatchewan: The boarding schools are great for local and foreign students, providing top-quality stages for students to realize their academic potential while supporting and directing their psychological, social, spiritual, and emotional growth.
Students at Canadian boarding schools get a mix of standard Canadian education and a supportive and caring living environment that prepares them for the best colleges and universities in the world.
Students at Canadian boarding schools learn to accept other cultures and nationalities while making friends from all over the world.
The province of Saskatchewan is home to some of the best quality boarding schools in Canada and the world in general, combining practical and theoretical teaching, and providing students with all the needed experience for higher education.
However, students must meet certain criteria to get into these schools.
This article will provide information on the best boarding schools in Saskatchewan, the criteria required to be admitted into these schools, and offer a few tips on how students can excel in boarding schools in Saskatchewan.
Where is Saskatchewan?
Saskatchewan is one of the Prairie Provinces in Canada.
It is one of only two Canadian provinces that doesn't have a saltwater coast, and its borders are the only ones that were made up (i.e., not formed by natural features).
Requirements for Getting into Boarding Schools in Saskatchewan
Copy of most recent report card
Application fee
English as a Second Language (ESL) test (for students with English as their second language)
Copy of visa grant notice (For international students)
Confidential report form from a current teacher or Principal
Confidential report form from a Family Friend or Pastor
Student medical report
Copy of birth certificate 
Copy of passport (For international students)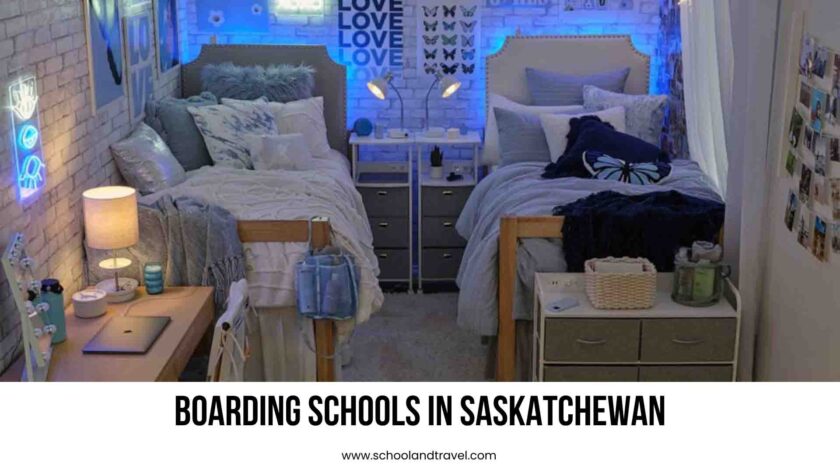 Boarding schools in Saskatchewan
The province of Saskatchewan is home to a few boarding schools, and they are:
1. Luther College High School:
Luther College High School is a private Christian high school providing quality education to grades nine through twelve.
The school is located in Regina, Saskatchewan. Luther College High School is open to local and international students with English language proficiency before applying for admission.
Advertisement
Each student at Luther College High School is taught to appreciate study and the value of knowledge; to value themselves and others; to appreciate the value of community, and to be conscious of God's world.
It's a place where kids can learn and grow in an equally intellectually stimulating and emotionally nurturing atmosphere.
Students who receive an education that focuses on the "whole person"—their social and emotional well-being as well as their intellectual, physical, and spiritual growth—are more likely to succeed as leaders who are compassionate, ethical, and actively involved in their communities.
Students of all faiths and backgrounds are welcome at Luther College, where the institution fosters a spirit of inquiry and encourages the pursuit of excellence in all endeavors within a Christian framework.
Luther is widely regarded as the best secondary school in Saskatchewan and one of the best in all of Canada regarding the liberal arts and sciences.
2. Athol Murray College of Notre Dame
Athol Murray College of Notre Dame is a private, autonomous, coeducational, residential high school with a strong Catholic heritage that welcomes students of all faiths. The school is one of the top boarding schools in Saskatchewan.
It was founded in 1920 by Fr. James Athol Murray and the Sisters of Charity of St. Louis under the patronage of Our Lady. Wilcox, Saskatchewan, is home to the school.
The school provides quality education to students in grades eight through twelve. The school's curriculum is shaped by Roman Catholic social teaching and liturgical tradition.
The College has an inclusive view and advocates for people of all faiths to seek God, have confidence in him and act in line with their beliefs.
To meet the real needs of Canadian and global communities, the school is committed to helping students cultivate strong moral convictions, assume personal accountability, and become contributing members of society.
The institution provides its students with a full schedule of academic and extracurricular opportunities, including religious, cultural, and social events, emphasizing sports.
It helps them integrate into the surrounding grassland village community via teamwork and friendly rivalry.
Advertisement
3. Rosthern Junior College High School
Rosthern Junior High School, or RJC High School, is a secondary institution in Saskatchewan that serves students in grades 10 through 12. The school is one of the top boarding schools in Saskatchewan.
RJC is a high-quality educational institution since it has been recognized by the Saskatchewan Ministry of Education and is a member of the Saskatchewan Association of Historical High Schools.
With an Anabaptist Christian worldview and a focus on the individual, RJC is a high school emphasizing religion, service, leadership, and community in its students' development.
The school aims to prepare leaders in religion, service, and peacemaking from students of various cultures and backgrounds to improve the world.
The campus housing provides chances for collaborative learning, and the cutting-edge academic programs there are designed to educate the whole person.
Students have opportunities to learn and grow outside of the classroom via various arts and athletics programs.
4. Briercrest Christian Academy
Briercrest Christian Academy is a private Christian school with public district backing. The school is located in the small community of Caronport, Saskatchewan.
The school creates unique opportunities for its students through academic, athletic, and spiritual development.
Advertisement
Briercrest Christian Academy's mission is to provide a Christian education that helps students reach their full potential in every area of life.
The school aims to provide a well-rounded education that includes challenging coursework, a wide range of extracurricular activities, and thoughtful spiritual guidance.
5. LCBI High School
LCBI High School is a Lutheran Christian school with over 100 years of history. The school is one of the top boarding schools in Saskatchewan.
The school fosters its students' unique talents in an all-inclusive setting that also instills in them a strong sense of social duty and compassion.
High school students at the school are taught by certified educators who follow a provincially approved curriculum.
Students take part in choir, small-group, and large-scale theater, as well as other performance-based activities. 
Tips for excelling in boarding schools
It may be difficult for students to adjust to life at a boarding school away from their loved ones and their usual routines. A boarding school's academic and life lessons are unlike anything else.
Yet, if they want to excel in school, the following suggestions may be helpful:
Advertisement
1. Have good hygiene
First and foremost, be sure to practice and uphold clean habits.
Students who are used to having their parents take care of almost every part of their personal hygiene at home must learn to take on more and more responsibility for their hygiene at boarding school.
2. Be off the open mind
Students face a whole new set of problems when attending a boarding school.
All of these challenges are to be expected. Individuals who are too comfortable in their routines may benefit greatly from being exposed to new ideas, teaching methods, and people.
3. Manage time wisely
Every student needs to learn how to manage their time between friends, studying, and other activities.
Events, organizations, theater, and athletics are just some extracurricular opportunities for boarding school students.
The bonus is on the student to determine how they will allocate their time.
4. Bond with roommates 
Students in boarding schools learn the value of friendship through their experiences with their roommates.
In a community setting, students may share meals, enjoy shared activities, and offer support to one another.
Frequently Asked Questions on Boarding Schools In Saskatchewan
Is Saskatchewan cheap to live?
Saskatchewan has some of the most reasonable housing expenses in Canada, making home ownership a realistic goal for many families.
Is Saskatchewan Good for immigration?
Saskatchewan's great quality of life attracts immigrants. The minimum wage is $10.20, which is more than the Canadian average. Saskatchewan is cheap by Canadian standards.
Conclusion 
Saskatchewan is home to some of the top boarding schools in Canada, with institutions focusing on providing students with a well-rounded education.
All qualified students, domestic and foreign, are welcome to apply. However, students must meet the requirements listed for entry into these institutions.
Students should enjoy themselves as much as possible while still focusing on their studies in boarding school.
Awesome one; I hope this article answers your question.
Advertisement
Editor's Recommendations:
If you find this article good, please share it with a friend.
Advertisement